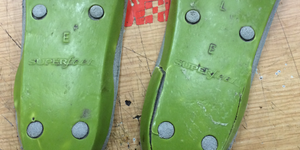 When should I replace my Superfeet insoles?
In our experience, Superfeet insoles last very well, often outlasting the original shoes or boots they were fitted to. We regularly take a customer's Superfeet out of their old pair of walking boots and put them straight into a new pair. However, there are some reasons to replace them:
If the underlying support cap is split - The cap will not be properly supporting the foot anymore, so you will no longer be getting the benifit of the control, support and improved weight distribution that Supefeet insoles normally provide. The sharp edges may well also damage waterproof linings (such as Gore-Tex or Sympatex), so it is best to replace insoles in this state!
If the underlying support cap has white stress-marks - The cap will be weakened and providing less support than when the insoles were new. They will still probably be way better than the original factory liners that came in your footwear, but it may be worth retiring them and using them in older footwear (your gardening boots for example).
If the top sheet is worn completly through - It is possible to patch the top sheet, but insoles in this state normally have broken caps as well. It's normally best to replace them.
If the top sheet looks used but the cap looks fine - Keep using them, although you may want to take the opertunity to give them a good clean in warm soapy water, or give them a spray with an antibacterial treatment.
---